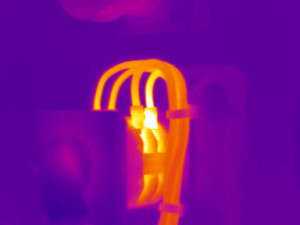 Infrared thermography is a non-destructive/non-intrusive option to provide a "pro-active" approach for your equipment maintenance instead of the "reactive" option which is widely practiced in the electrical maintenance industry.
Infrared thermography inspections detect heat being generated by electrical plant and equipment through measurements of infrared electromagnetic radiation.
The heating abnormalities emitted by a component could be caused by deterioration of a termination, overloading or an ageing process; which may ultimately lead to an unscheduled breakdown or fire and destruction of the equipment.
The introduction of an Infrared Thermography inspection program can improve profitability, safety and reduce your operating, test and maintenance costs by offering the following benefits:
Allows  you to be fully aware of the operating conditions of your equipment
Quickly  identifies problems in electrical equipment or connections
Reduces unplanned outages and equipment breakdowns ensuring  the continuous operation of  the plant
Allows Engineers and maintenance planners to prioritise repairs
Improves preventative maintenance efficiency
Surveys can be conducted under load avoiding costly plant  or system shutdowns
Ensures the ongoing safety of employees and the general public